Agent Support
Since the re-opening of the borders, many agents have approached SIEBA for guidance and assistance in re-engaging with the school sector. In response to this, we have launched registration to SIEBA for agents. This will ensure that support for agents is ongoing and will help strengthen relationships between schools and the agent network both within New Zealand and offshore.
Agent access on the SIEBA website is limited to the Agents section, which is also accessible by SIEBA members. The Agent section of the website comprises of the following subsections:
Placements
Reference Checks
Resources
Registered Agents
Events and Workshops
Newsletters
Agents will pay a small fee to be registered, and as part of the registration process will be referenced checked. SIEBA members may view the list of reference checked agents in the Registered Agents subsection, and may choose to forgo their own reference check for any agent that has already been reference checked by SIEBA. However, it is still the responsibility of each school to monitor and check the agents they work with on an ongoing basis.
SIEBA members will also be able to provide feedback for registered agents and give them a score out of 10. This feedback will be reviewed by SIEBA. This will provide a constant source of review for each registered agent.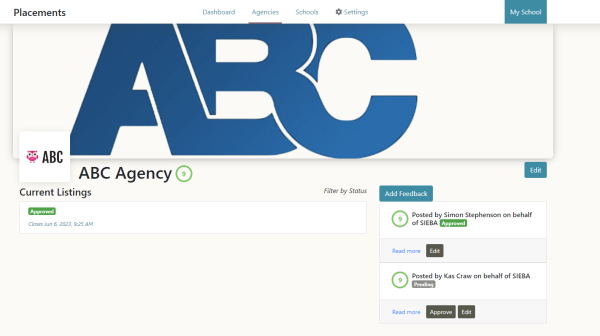 Placements
The placements service, which was previously open to any agent or individual, will now require agents to be registered in order to use it. By visiting the placements page, members will now be able to see a list of available listings, sorted by a score indicating their relevance to the member's organisation, as shown in the image below.
To register interest and get in touch with the agent, simply click on the listing, then click 'Post a PEI' (placement expression of interest). This PEI will then be seen by the agent, who can choose to engage with the school member further and/or accept and agree to place the student at the school.
If your school is accepted by the agent you will be prompted to provide feedback on that agent further down the line.

Reference Checking
What is an Agency?
An education agency is a person, body, or organisation acting on behalf of a signatory school in relation to any aspect of their international learner's enrolment and study, including accommodation, and includes subcontracted agents.
Why Reference Check Education Agencies?
Reference checking prospective education agencies is a requirement of the New Zealand regulations that govern international education. Education agencies must be reference checked and all agencies, whether they are individuals or companies, must be reference checked before acting on behalf of a school.
Who can be a Valid Referee?
For the purposes of SIEBA registration:
For agencies currently working with education providers in New Zealand, a Valid Referee is a referee from one those education providers.
For agencies currently operating outside of New Zealand and new to working with New Zealand education providers, a Valid Referee is a referee from one of those offshore education providers.
For newly established agencies who are not currently working with international education providers within or outside New Zealand, a Valid Referee is a referee who is at arm's length from the agency, is a character or commercial referee, and cannot be a family member or close relative or friend of any owners or managers of the agency.
Ongoing Agency Monitoring
Agency registration is on an annual basis. To renew agency registration, an agency will:
Have Positive Feedback recorded against their agency from no less than three SIEBA member schools: and
Pay the registration fee.
For the purposes of renewing the registration of an agency, Positive Feedback is:
All four questions from the website feedback form have been answered; and
There are no responses or comments about the agency that SIEBA believes, at its sole discretion, provide a valid reason not to renew the registration.